Haero Bro 2021 Dawid Rzaca Pro Mountainboard - Complete Kit
Included in the kit:
-Haero Bro Dawid Rzaca Deck
-MBS Matrix II Trucks
-MBS 9" Tires/Tubes
-MBS Five Star Hubs
-MBS F5 Bindings, Hardware
The Haero Bro 96 deck is updated and tweaked for 2021 with Dawid Rzaca Pro model jammed full of innovative features and rides amazing. 
So what has changed for the 2021 Haero deck apart from the awesome Pro Dawid Rzaca graphics?
Actually not too much, as everyone loved our deck as it was. But you will notice the following little changes:
A third possible binding position will give you even more adjust ability of your stance and ride feel.
A Slightly more aggressive concave for even more hold when riding without heelstraps.
A 3D CNC´d base and a different wood composition in the core helps to make a more aggressive concave possible. The weight will also benefit slightly from this.
The short wheelbase 1cm longer to gain more stability and a better feeling on jumps with the shorter wheelbase. It will also help with clearance (shoe, wheel or motors).
Haero Bro 96 Deck Shape and Size:
Flatcave and Gas Pedals - Rather than full concave under the foot is flatter with steep concave at the edges with gas pedals lipping up to put more pressure into those toe turns. With the deep foot pockets don't be afraid to ride without heelstraps as it locks you in tight.

Wide Footbed - Too narrow a deck and you are not getting the power down to the deck especially if you have larger feet. More contact = more carve.
Flat Stand Coil Camber Rocker Profile - If you are standing on a positive camber deck then your feet are angled out and can put pressure on the knees incorrectly. The Hearo Bro has been designed with positive camber between the feet but flat underfoot so knees are positioned more comfortably and there is power and pop in the deck.

Wheelbase and Stance Options - Because everyone has different preferences based on height and weight then there are two options for both wheelbase and also stance width. Wider stance puts feet closer to the trucks, short deck is small turning radius and stiffer. You might find you can change around the board depending on what you are riding for skatepark or freeride?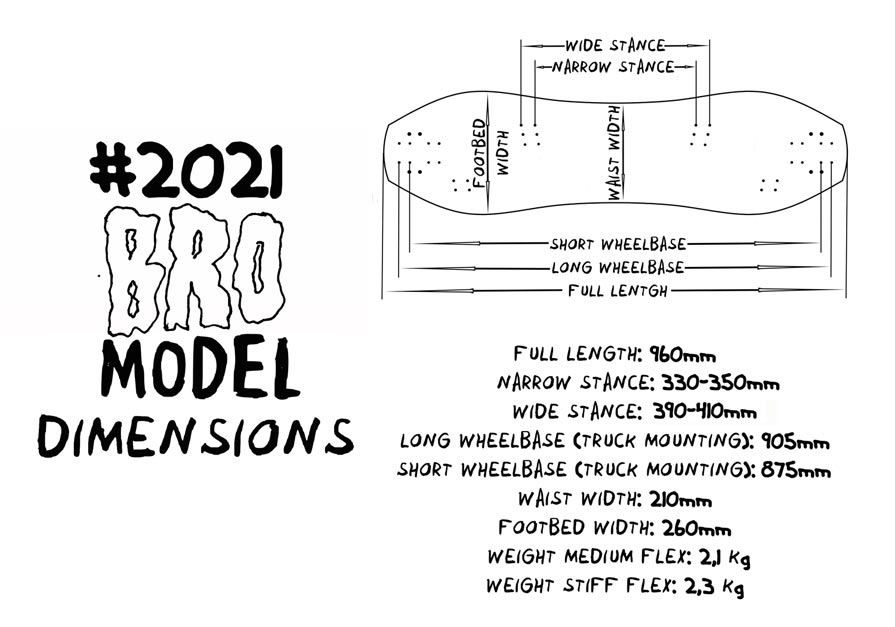 Haero Bro 96 Board Construction:

Durable Topsheet and Easy Slide Base - Protection can be everything and when going over rails, rocks and other obstacles keeping the deck sealed from the wet is important. The top surface is covered with a protective sheet like a snowboard to reduce scratches. The bad has a grind surface to survive the impacts and is smooth to slide on too so doesn't need wax to grind.
ABS Sidewalls and binding Inserts - Something again standard in snowboards is a ABS bumper built around the deck again protecting the core of the board from damage to the edges. Inserts built into the deck add a few grams of weight but keeps the base smooth as silk.
Featherlight Core - The heart of any board is the core material. Most mountainboards are super heavy due to the materials used and mostly the resin gluing it all together. Haero have managed to make a deck only using three sheets of wood making a strong deck without the weight. Also add in triaxial fibreglass and carbon fibre stringers to make the deck pop.
Power X and Power Strips - Without some fibre to give the deck stiffness it would be loose and floppy. Ideally a deck should have reduced torsional flex so your input goes straight into the trucks so to stiffen things up then there is a X of carbon fibre in from the foot placements up to the truck holes and carbon beams the length of the deck to reduce the torsion and give back the pop you want.
Tip angles - The steeper the tip angle the quicker the truck turns if it's a channel truck, the less angle the less turn and the more stable the ride. 35 degrees is fast, 25 degrees is stable so Haero went in the middle with 30 degrees. If you want less or more you can use a angled riser to correct this to what you wish for the trucks you are using.
MBS F5 Bindings
-Full range size adjustability with toe-post cam-lock adjustment (coarse adjustment) and heel post-ratchet buckle (fine adjustment and ratcheting).

-Ergonomic and comfortable with thick dual-density padding.

-Improved ratchet buckle release. Ratchet down as tight as you want and still release with a single finger.

-Integrated ladder/bracket system. We've combined two separate parts (L-brackets and Ladder straps into a single integrated L-Ladder eliminating the need for strap mounting screws altogether. Not only does this reduce weight, it eliminates the possibility of strap screws ever coming loose.

-Wide Entry Spacing makes it easier to get feet out and back in again for no-foot tricks.

-Integrated Heel Strap Mounting bosses.

-Includes mounting hardware.
MBS Matrix II Trucks
Width: 16.3" (41.4 cm / 414 mm)

Axle Diameter: 12mm

Weight: .9 (kg) / 1.9 (lb)

Hollow axle end

Includes 4mm hex head mounting hardware and Orange (Medium) Shock Blocks
MBS Five Star Hubs and 8" Tires (9" tires shown in picture)