ELECTRIC Haero Bro 2021 Dawid Rzaca Pro Mountainboard - Complete
Turn the dial up to 11!
We've outfitted this Haero Bro mountainboard with the most elite electric components available, ready to ride right out of the box!**. This is a true all-terrain board. Able to carve the streets with the crew, or venture off on your own in the wilderness. Rocks, mud, desert.. doesn't matter with this setup!
Specs 
Top speed : 28mph* (dependent on motor KV selected)
Range : 22-26+ miles*
Deck : Haero Bro 2021 Dawid Rzaca Pro
Trucks : MBS Matrix II or MBS Matrix III (with medium shock blocks)
Wheels/Hubs : MBS Fivestar hubs with 8" MBS T3 or 9" MBS T1 Tires
Bindings : MBS F5, with heel straps
Battery : 12s6p Molicel P42A in a Pelican 1200 case (charger & 12s BMS included)
ESC : MakerX DV6 Pro in a rear mounted 3D printed enclosure 
Motors : MBoards 6384 140KV / 190KV or MBoards X Reacher 173KV motors

Drivetrain : 15t/72t with Custom MBoards in house manufactured motor mounts   
Remote : Flipsky VX4
Grip Tape : Custom padded grip tape (design can be customized, just send us the file!)
The Haero Bro 96 deck is updated and tweaked with Dawid Rzaca Pro model jammed full of innovative features and rides amazing. 
So what has changed for the 2021 Haero deck apart from the awesome Pro Dawid Rzaca graphics?
Actually not too much, as everyone loved our deck as it was. But you will notice the following little changes:
A third possible binding position will give you even more adjust ability of your stance and ride feel.
A Slightly more aggressive concave for even more hold when riding without heel straps.
A 3D CNC´d base and a different wood composition in the core helps to make a more aggressive concave possible. The weight will also benefit slightly from this.
The short wheelbase 1cm longer to gain more stability and a better feeling on jumps with the shorter wheelbase. It will also help with clearance (shoe, wheel or motors).

Wide Footbed - Too narrow a deck and you are not getting the power down to the deck especially if you have larger feet. More contact = more carve.
Flat Stand Coil Camber Rocker Profile - If you are standing on a positive camber deck then your feet are angled out and can put pressure on the knees incorrectly. The Haero Bro has been designed with positive camber between the feet but flat underfoot so knees are positioned more comfortably and there is power and pop in the deck.

Wheelbase and Stance Options - Because everyone has different preferences based on height and weight then there are two options for both wheelbase and also stance width. Wider stance puts feet closer to the trucks, short deck is small turning radius and stiffer. You might find you can change around the board depending on what you are riding for skatepark or free ride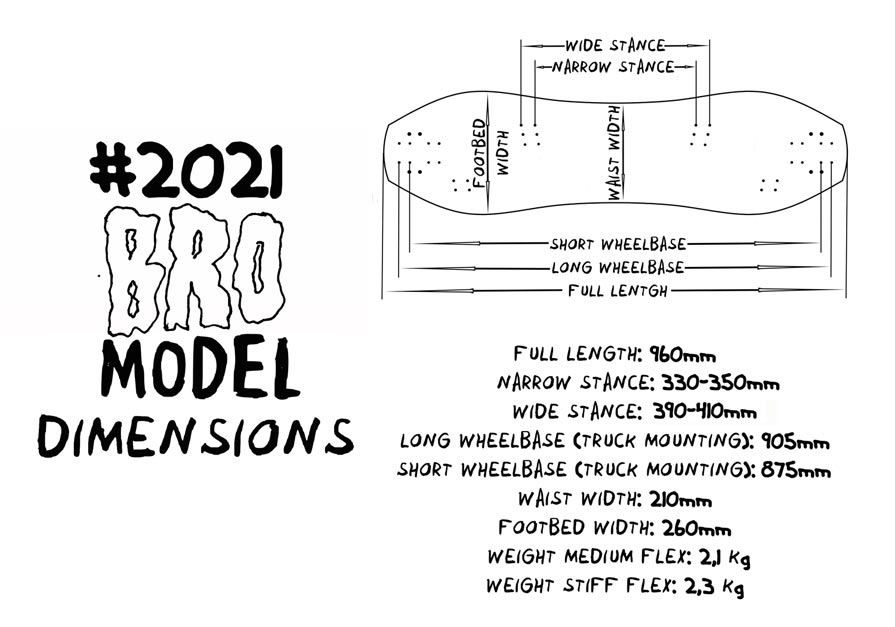 MBS F5 Bindings
-Full range size adjustability with toe-post cam-lock adjustment (coarse adjustment) and heel post-ratchet buckle (fine adjustment and ratcheting).

-Ergonomic and comfortable with thick dual-density padding.

-Improved ratchet buckle release. Ratchet down as tight as you want and still release with a single finger.

-Integrated ladder/bracket system. We've combined two separate parts (L-brackets and Ladder straps into a single integrated L-Ladder eliminating the need for strap mounting screws altogether. Not only does this reduce weight, it eliminates the possibility of strap screws ever coming loose.

-Wide Entry Spacing makes it easier to get feet out and back in again for no-foot tricks.

-Integrated Heel Strap Mounting bosses.

-Includes mounting hardware.
*Range and top speed specs are only estimates, and are based off rider weight/speed/style. 
**Board will be shipped 90% complete. Customer will need to install tires. All electronics will be setup prior to shipping